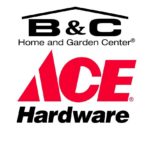 Deeply rooted. This is the best way to describe the Fowler family and their iconic B&C Home and Garden Center located at 2032 Nevada City Highway in Grass Valley.
The roots were planted in 1940 when Leland and Faye Fowler purchased 14 acres of meadow to build a saw and planning mill and lumber retail operation, Builders and Consumers Lumber (note: the very first Fowler business, a mill and lumber sales operation, was established in 1865). Over the years the family business passed from Leland and Faye to their sons Charles and Don, and passed down again to Don's sons, Greg and Gary, and Charles' daughter and son-in-law, Kim and Tom Janousek (later, portions of shares were sold to Jim Janousek).
Deep roots, indeed. For 78 years B&C Home and Garden Center has been the go-to supplier for local contractors, home owners and do-it-yourselfers in the Grass Valley-Nevada City area. In December 2017 B&C joined the Ace Hardware Co-op, and offers a full line of Craftsman tools and Toro lawn care products.
The retailer has also been an ardent supporter of local organizations for many years, ensuring the quality of life in the community goes beyond one's home. To that end, B&C has supported Nevada County Habitat for Humanity for well over ten years.
"Most business people realize housing is an issue," Greg Fowler says. "It just makes sense that we support Habitat for Humanity." He went on to say that over the years two of his employees have become Habitat homeowners.
When asked about the company's philanthropic commitment to numerous organizations, Greg said "If we're going to be in the community, then BE a part of the community."
Nevada County Habitat for Humanity encourages people to support local businesses, like B&C Home and Garden Center, that support Habitat. It's one step we can all take to be rooted in the community we share.