Welcome to ReStore!
Nevada County Habitat for Humanity
A Good Deal For You, Our Community And The Environment
Drop off or we'll pick up!
Do you have gently used furniture, appliances or leftover building materials you don't need?
Volunteer at ReStore
Visit our Volunteer Opportunities page to see how you can get involved at ReStore.
You don't have to lift a hammer to help!
100% of the profits from ReStore support Nevada County Habitat for Humanity
The store that builds homes!  Nevada County Habitat ReStore is a nonprofit home improvement thrift store and donation center. We sell new and gently used building materials, furniture, appliances, home accessories, and more at a fraction of the retail price. Open to the public and all proceeds stay locally — right here in Nevada County.
ReStore Strengthens our Community
By Building Homes
ReStore's primary purpose is to provide a sustainable revenue source for Nevada County Habitat for Humanity to provide and preserve affordable homeownership.
By Providing Materials to the Community at Affordable Rates
Building materials are available to shoppers at a discounted rate enabling everyone at all income levels to repair and maintain their homes.
By Saving the Environment through ReUse and Recycling
We provide an outlet for reusable items otherwise destined for the Nevada County transfer station and landfill.
By Developing Employees and Volunteers
ReStore's daily operations provide meaningful opportunities.
Shop at ReStore for new and gently used appliances, furniture, cabinetry and more at huge discounts.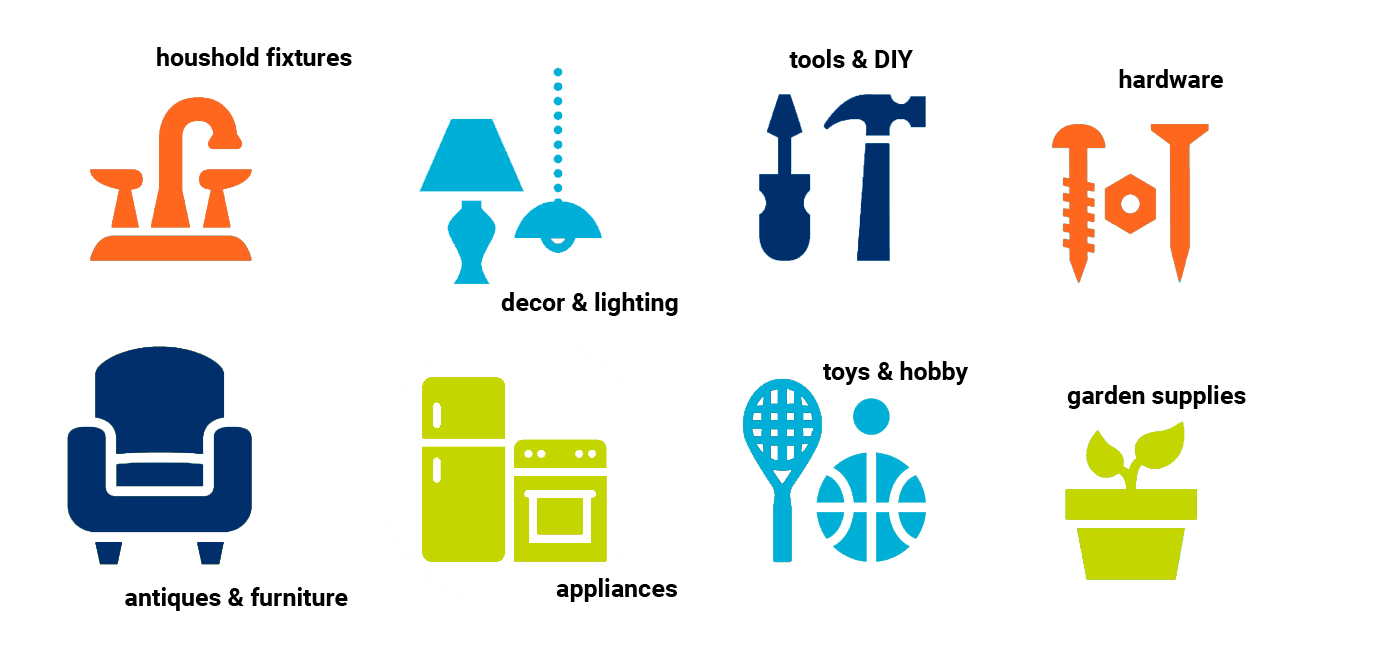 Hours & Location
12359 Loma Rica Drive • Grass Valley, CA
(off Brunswick Road)
Current Store Hours
Tuesday – Saturday, 9:00am to 6:00pm
Material donations may be dropped off at ReStore from 9:00am to 4:00pm, Tuesday – Saturday.
ReStore Donation Guidelines
Donations can be dropped off at our store Tuesday through Saturday, 9:00am to 4:00pm.
Take a moment to review our accepted & unaccepted items list below. This is a general outline, not a complete list. Please call if you have any questions regarding your donation or to discuss a pick up of larger items. (530) 274-3761
Acceptability is at the discretion of the drivers and our ReStore donation staff. Drivers and staff reserve the right to refuse donations based on current inventory stock and the condition of items being offered as donation. Thank you for your understanding.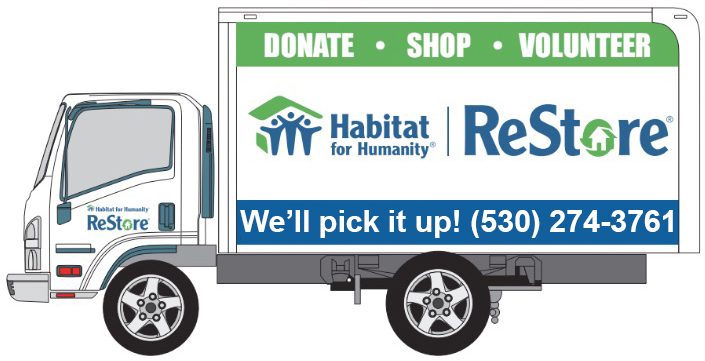 Furniture
Chairs, dressers, end tables, dining tables, home office furniture, sofas, shelving units in clean, working condition.
Building Materials and Hardware
Lumber 5' or longer, drywall 4'x'4 minimum, new insulation in rolls or bats (contained in bags or boxes for safe handling). Hinges, nails, screws, nuts, bolts, fasteners, and locks. New shingles, gutters, and siding.
Lighting/Electrical
Ceiling fans, lamps, lighting fixtures in working order with no broken or missing pieces. New or very gently used electrical parts, hardware.
Doors and Windows
Interior and exterior doors, complete door hardware and knob sets, vintage or new double paned wood framed or vinyl framed windows, and window screens, shutters, and coverings in new condition.
Bathroom
Toilets, sinks, tubs in clean and in new condition. Newer, lead free* faucets, pvc and metal pipes and fixtures, new plumbing supplies.
Flooring
New or reclaimed wood or laminate, new linoleum or vinyl, slate, tiles, new carpeting, and rugs. Please write size on back of carpet, rug, or vinyl with a permanent marker.
Kitchen
Cabinet and drawer sets, (less than 20 years old), counter tops, granite, corning, marble, or stone. Sinks and lead free* faucets.
Tools
Power tools clean and in good working order, hand tools, aluminum or fiberglass ladders in good working order.
Other Items
Lawn and garden supplies, housewares, dishes, counter top appliances, art, knickknacks, bicycles in good working order, full rolls of wallpaper, framed mirrors, air conditioners, and some new automobile items.
Furniture
Entertainment centers, furniture that is broken, torn, ripped, or pet damaged. Office chairs, box springs, or mattresses.
Appliances
Appliances more than 10 years old, in addition to water softeners & water filtration.
Building Materials and Hardware
Lumber less than 5', lumber with nails or screws, broken drywall or small pieces, used or damaged insulation. Hardware with rust or missing parts. Garage doors or openers, used gutters or shingles, used siding.
Lighting/Electrical
Fluorescent light fixtures or bulbs, light fixtures with broken or missing pieces, used light bulbs, light fixtures more than 20 years old. Brass fans or lighting fixtures.
Doors and Windows
Hollow core doors (unless new), metal framed windows, twisted or old window screens, mirrored or accordion closet doors, glass shower doors, window blinds, broken shutters, stained window coverings or curtains.
Bathroom
Faucets or plumbing supplies that are not compliant with lead laws, older galvanized pipe, broken pvc pieces, rusted or glued pieces, cast iron sinks or tubs, sinks or tubs with staining, medicine cabinets. Unframed glass or mirrors.
Flooring
Individual or broken pieces of tile or laminate, used laminate or vinyl, stained or old carpeting or remnants.
Kitchen
Broken or damaged cabinets, counter tops with cracks, holes or cutouts, used laminate counter tops.
Tools
Broken or rusted tools, recalled tools, wooden ladders.
Other items – we have learned from experience that we cannot accept any of the following items:
Solvents, hazardous materials, toxic chemicals, paint, computers, fax machines, modems, routers, VHS, or cassette players, clothing, medical equipment, pesticides or fertilizers.