At Nevada County Habitat ReStore, Every Day is Earth Day
Our community continually shows their love and appreciation for our beautiful county by nurturing it and promoting healthier habits to keep it glorious for generations to come. April 22nd was Earth day.  At Restore, Everyday is Earth Day. For every dollar you spend at Restore, you help us offset up to 1.3lbs of landfill waste. In the last 12 months you have enabled your Habitat for Humanity Restore keep over one million pounds of material out of our local landfills. Well done Nevada County!
---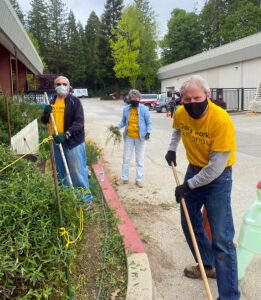 Restore has always been very fortunate to have so many members of our community who generously donate their time. Volunteers are an integral part of our operation. Utilizing volunteers enables us to keep our operational costs lower and create a larger profit to help facilitate building more homes. During April Restore had a group of Volunteers from LINC (Love In Nevada County). They trimmed hedges, cleared out cobwebs and helped organize in our warehouse. We have been unable to gather with such groups, due to COVID precautions, and welcomed the opportunity to regain some of our normal daily activities.
If you, your family or community organization are looking to put your skills/interests to work, think Restore. Our staff can help make your Volunteer day(s) a fun festive event while still maintaining COVID safety guidelines. Call the Restore for more information.
---
I bet you have a few projects on your Honey Do list. Think Restore.  We proudly carry Visions Paint, in a variety of colors and finishes. Don't forget about paint brushes, drop clothes and coveralls before you start. Come check out our expanding line of paint supplies. We also now carry batteries and high quality tarps. There's something new every day at ReStore – and definitely something useful!
---
We know every time you spend your money, you are casting a vote for the kind of world you want. Thank you for supporting your Nevada County Habitat for Humanity Restore. We couldn't do what we do for Nevada County without you.