"Everyone on our team is a volunteer of the year. Whether it requires a lot of skill, is a menial task, or is even scary like getting up on scaffolding, they are always up for it."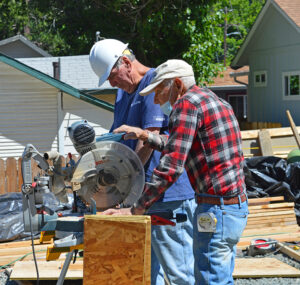 Frank Sobrero has been building homes with Nevada County Habitat for over two decades. As the Construction Supervisor for Habitat, he's been the point-person for a unique and tightly connected group of men and women that consistently and selflessly give their time and labor to improve the lives of local individuals and families.
Frank says it's inspiring to see people who come from such varied backgrounds work side-by-side. "We have people who were teachers, bus drivers and corporate executives during their careers who are willing to come out here and learn. Over the years I've watched people who had no experience building homes gain skills and get better and better at what they do. Everybody brings something to the party – and we all get along."
"I never had much opportunity to do a lot of volunteer work, to give back.", says Andy Kramer, who owns a local ranch and serves on the Habitat Board of Directors. "Habitat scratched my interest in design and building, but I also enjoy the physical labor. Moreso, with Habitat we're all around like-minded people. One of the best things about this crew is that we are all friends and we look out for one another."
Perhaps more than anything it's that fellowship (in addition to the Habitat mission) that keeps people engaged. That engagement was put to the test last year when Habitat briefly paused construction due to the Covid-19 Pandemic. Frank remained in communication with everyone on the core construction team – and to a person, they were ready to go when it was safe to do so.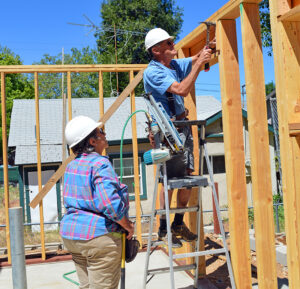 "We genuinely have deep concern for the welfare and health of one another, so we were very conscious of potential dangers." Andy says. "So, we were very proactive about implementing and following our protocols – wearing masks, social distancing, washing tools. We worked shorter days – sometimes foregoing lunch."
"During the Pandemic every one showed up," Frank says with pride. "We kept the rules. We had a safety meeting every day.  All of us wanted to get to work, but we all wanted to make sure everyone was safe."
While the new construction protocols due to the Pandemic were challenging at times (like, keeping glasses from fogging up while wearing a mask – perhaps the biggest challenge of all!), the team also found new ways to actually become more productive.
"This forced us to plan everything better and more concisely," Andy says. "The conditions helped us to sharpen our thinking about advance planning, ordering materials, scheduling outside suppliers and vendors more in advance.  A part of that planning led us to working on three homes simultaneously."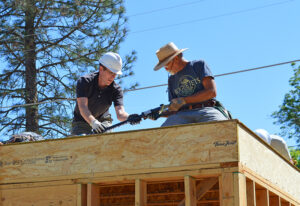 "Building houses is all about solving problems," Frank says. "Day to day we work together to find good solutions. I think that's one of the best things about this team – the chemistry is terrific because we like and respect one another."
The current construction crew has 33 core members, many of whom have volunteered for over a decade or more. John Dutto is one of those members. An electrician by trade, John's career led him to work on some of the largest commercial construction projects in San Francisco. When he retired to Nevada County he looked for a way to give back. At his son's suggestion he contacted Nevada County Habitat in 2009.
"I really enjoy it," He says. "I still like doing the work. I've learned a few tricks along the way." With John's depth of experience he's been tasked with training others on-site. "Teaching others has been really great. I enjoy it just as much."
The fellowship is felt by all of the members of the crew – and they look out for one another. It's not uncommon to see a fellow team member helping another who might have physical limitations or may not be as experienced at a certain tasks. "We respect each other," Frank says. "Every person on this team is valued by one another. That's important."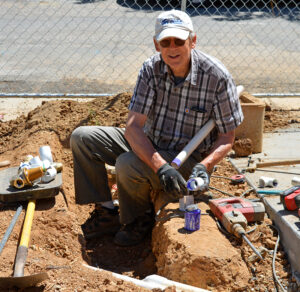 That esteem afforded to one another is a key ingredient that goes into every Habitat home.  "The main thing is that we can see how the fruits of our labor impacts people." Andy says. "In getting to know the homeowners, we really see first-hand how much lives are changed."
"Just knowing that we are helping people create better lives for themselves is what keeps us coming out. The faces of the homeowners as they see their homes is quite gratifying." Says Betsey Wagner, another long-term crew member.
"Most of us are giving up a portion of our retirement to do this work in helping others," Andy says. "It's definitely worthwhile."
It is because of the dedication that every member of the construction crew brings to the build-site is why Nevada County Habitat never stops building. Each person understands there is a housing crisis here, and local families and individuals are in need.  Through that shared dedication they have created a culture that provides inspiration and purpose – and friendship.
This fellowship is making our community a better place to live every day. That's the heart of the Nevada County Habitat mission.