The final nail has been hammered, the kitchen cabinets hung, rain gutters installed, and inspections are final on the second of four homes in Habitat's Park Place development!
On Friday, December 17, 2021, Mike and Tommi celebrated becoming Nevada County Habitat's newest homeowners…and Hunter and Riley are finally getting bedrooms of their own! A small crowd of supporters comprised of volunteers, Habitat staff, and friends and family of Mike and Tommi, were there to see and celebrate this joyous moment.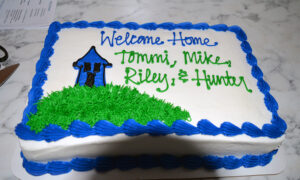 During the Pandemic, Mike and Tommi, and their children Hunter and Riley, would often make a lunch and picnic near the construction site – often looking at the ground where their home would be. They saw more than footings, they saw a safe future free from housing insecurity and full of stability and strength. Hunter would often go home after one of these outings and make a Play-Doh model of what his bedroom would look like.
And now the time has come!
"What with Covid and everything else, we had to learn patience and trust," Mike says. "We had complete trust in everyone at Nevada County Habitat – we knew they always had our best interests in mind."
"We are over-the-moon excited and a little scared," Tommi says. "This is a journey that has been long, but one I'd never take back. It's the most beautiful and amazing thing that has ever happened to our family. Our dreams are coming true."
A special thanks goes to Byers, MEC Builds, Wells Fargo Foundation, United Auburn Indian Community, Lowes, B&C Ace Hardware, and Grocery Outlet of Grass Valley and all of the generous individual and local business donors, and all of the dedicated Habitat volunteers, that made Mike and Tommi's forever home possible.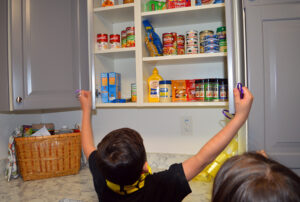 "The Habitat mission is made possible by the dedication and generosity of so many people and organizations," Lorraine Larson, Nevada County Habitat Executive Director said. "They make our community as a whole a better place to live, and certainly have made it possible for families like Mike and Tommi's to experience long-term stability and security."
As Habitat homeowners, Mike and Tommi contributed 500 hours of sweat equity, working alongside volunteers to build their home. Mike, who is employed by Premier floor Covering and Tile, installed all of the flooring in their home while Tommi built equity by volunteering at the Habitat administrative office and at ReStore.
"Being able to be hands-on, working alongside all of the amazing volunteers, has been an incredible experience," Mike says. "Being able to stand in this home and just say, 'this is mine. I helped build this with my own hands', is an indescribable feeling. I mean, I literally have actual blood involved in building my family's home!"