For Brian and Ann Moore supporting the habitat for Humanity mission was a "natural thing".
"We're Christians," Ann said. "When there's a need, we do our best to meet it."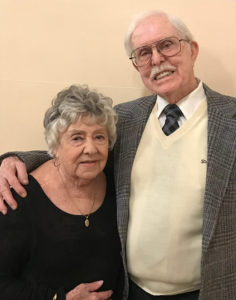 Brian and Ann became involved with Nevada County Habitat for Humanity in 1995 before a nail was ever driven into Habitat's first home in Penn Valley. Ann joined Habitat's very first Board of Directors that year and helped to guide the fledgling organization into affiliate status with Habitat for Humanity International. They were also instrumental in recruiting Frank Sobrero to join the Habitat construction crew (since then, Frank has been a part of every home built by NCHFH, and is Habitat's construction supervisor).
The couple have always had a heart for service. Prior to moving to Nevada County, Brian and Ann started a soup kitchen in Southern California. "We've always desired to care for people who couldn't necessarily care for themselves."
A retired teacher, Ann especially understood how important it is for children to have a secure home. "There continues to be a necessity for people to have affordable places to call home, where they can raise their families and be a part of the community." She went on to say how gratifying it was to witness the Habitat mission become so successful here with all of the families who now have permanent homes.
Brian and Ann continue to support local families in achieving their dreams of home ownership and planting roots in Nevada County by volunteering where they can, and by being members of NCHFH's Dream Builder's Circle monthly giving program. The couple, who celebrated their 65th wedding anniversary this past December, has always put their values into action through a foundation of love. Putting their faith into action has been a natural expression of the love they've shared for over 65 years.
"If you love and care about people you're bound to get positive results."