Something John Shulse's mother taught him when he was a child has always stayed with him: "Be someone who helps. Be of use."
John has "been of use" with Nevada County Habitat for Humanity since 2007. When he first entered the Habitat universe he was teaching science and math at Seven Hills Middle School in Nevada City. One of his teaching colleagues was Steve Davis, whose wife, Ann, was a member of the Nevada County Habitat Homeowner Support Committee. She thought John and his wife, Ann, could offer much to a family purchasing a Habitat home – so she recruited them.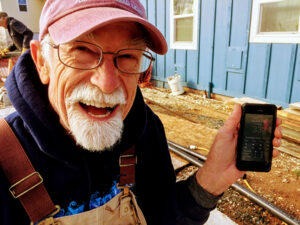 John and Ann mentored a family moving into one of the homes on Ivy Street. After that he saw how much fun the construction crew was having and joined them – and he's been a pillar with the crew ever since.
"I had built my own home, so I had some skills," John says. "But, working with Habitat I've learned a lot. I love working with tools, but it's so much more. I love the camaraderie with all of the crew members, sharing our stories. We've all become very close." John says one of the favorite things he enjoys on-site is to walk the walls up top while they are rolling the trusses.
John went on to explain that developments in technology have made the entire project much smoother. For instance, by using production tracking software, construction site managers working on this project have been able to monitor the various steps of the building process.
John has had a hand in building 15 of the 16 homes at Heritage Oaks, and he and Ann are the partner family to Whitney A., who will purchase the final home in the development. "It's fulfilling. We're cheerleaders, encouragers, guiding and advising. We really enjoy helping families make their dream of owning a home come true."
As Habitat nears its annual Street of Dreams event, John has become known for something else – his pies. For the past several events he has donated six homemade apple or berry pies to be offered during the event's live auction. In 2018 his six pies went for $1,000.
"That was kind of embarrassing," John laughs. "But I'm thrilled Habitat benefited so much."
John made his first pie when he was a college student in Sonoma. "There were blackberries all around. Besides picking them from the vines I wondered what else could be done with them. So, I decided to make a pie. And I've been making pies ever since with a simple mathematical dough recipe."
With his work on the construction site, guiding families into their new homes, and making mouth-watering pies, John has certainly lived up to his mother's direction in "being of use".
"I get to do this," he said of his work with Habitat. "This is a work of the heart. This is the good stuff."