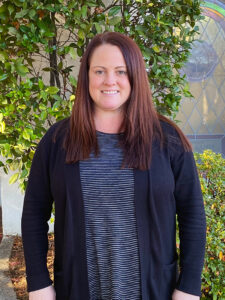 When folks call into the Nevada County Habitat office they'll hear the fresh, new voice of Brooke Batinic. Brooke joined the Habitat team on July 30 and will serve in the role of Administrative/Program/Event Coordinator.
"We really took our time in filling this position," says Lorraine Larson, Nevada County Habitat Executive Director. "This role has an effect on just about every area of Habitat, and we think Brooke is a perfect fit. We're excited to have Brooke as a valued member of our team."
Transplanted from Indiana, Brooke and her husband, Brian, and their young daughter, landed in Penn Valley on New Year's Eve 2019.
"We love the creative energy of the West Coast," Brooke says. "We wanted to raise our daughter in an area where creativity and a forward vision was valued. It was a leap of faith, but we're excited about all of the possibilities that await us."
Which makes sense given that Brooke has had a life-long passion for dance. Beginning with entering dance competitions when she was just three years old, her love affair with dance resulted in her receiving scholarships to attend Broadway Dance Center and Steps on Broadway in New York. Throughout her adult life Brooke has taught dance (modern, tap, hip-hop, jazz).
Brooke's interests aren't limited to dance, as she went on to earn a B.S. degree in hospitality management from the Illinois Institute of Art in Chicago. An avowed wine lover, she is also a certified Level II Sommelier.  Her favorite wine? "There are some really good California Syrah's that are quite nice!"
So, why Habitat? Brooke comes from a family construction background. Her father once had the distinction of being the president of the International Ironworkers Union while also being Vice-President of the Industrial Contractors Association. He was also the lead foreman in the building of the United terminal at O'Hare International Airport and the Prudential building in Chicago. Even closer, Brooke's husband, Brian, is a carpenter who served in the Army Corp of Engineers for eight years, and also volunteered on a number of Habitat for Humanity builds in Indiana.
"Being here at Habitat I have a sense of good nostalgia because of my father," Brooke says. "I really look forward to getting to know our volunteers in the coming months." She also says that she's excited to see projects completed from beginning to end, and especially when keys are handed over to a Habitat family.
The entire Habitat team looks forward to celebrating with Brooke when that happens!