Three years ago Sharon R.'s daughter, Liddy, would never dream of having a sleep-over at their home. They lived in a mobile home that was falling apart. The electrical in the trailer was a fire waiting to happen. Sharon did everything possible within her ability to hold it together, but there's only so much one can do with masking tape.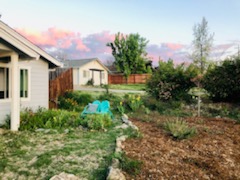 But all of that changed. Sharon and her three kids will celebrate the two-year anniversary of being in their Habitat home in May. And it's amazing the transformation it's had on their entire family.
"It's amazing the change in self-esteem we've all experienced," Sharon says, reflecting on the differences she's seen in herself and her children.  "Where we were before we were just trying to survive. And now we are thriving.
"For me, I feel like having a home, a real home, is having a place to celebrate and mark the milestones in our family's life."
They began marking those milestones within two weeks of moving into their new home, with Sharon graduating from Sierra College, earning her Associate Degree in Child Development. Not long after that she achieved her Site Supervisor Certification and was promoted in her role at Kinderland to Site Supervisor.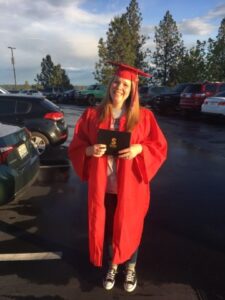 Later that year she hosted Thanksgiving dinner for her entire family for the first time. That milestone was the first of many family get-togethers.
"I love our home and now I'm proud to have family and friends come over. And I love watching my children grow in their self-esteem and their sense of self-worth. That has brought us all so much peace."
What has also brought more peace is the financial predictability owning her Habitat home has brought.  Besides having a mortgage payment that is affordable, having her home powered through solar has been refreshing, with power bills hovering around $20 each month – versus PG&E bills that reached as high as $700 per month for the mobile.
"As a single-mother I had to shoulder all of those costs, wondering how I was going to manage paying rent and electric bills and still feed my children. There certainly wasn't any room for extras." Sharon says.
That's changed now. With the level of predictability being easier to manage, there is less burden and more opportunity for growth. For example, her youngest son, Wyatt, a sixth-grader, will finally realize his dream of playing football. "My biggest worry now is making sure he doesn't get hurt!" She laughed, maybe a little nervously. "But that's his dream. I don't think it would have happened were it not for having this home."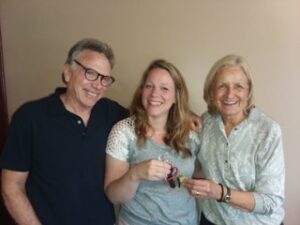 The next milestone to celebrate is her oldest son, James, graduating from Nevada Union in June. Sharon reports that he's already received scholarships to pay for all his tuition at Sierra College. His goal is to become an engineer.
As for Liddy, she'll graduate from eighth grade this year (another milestone). And she finally had friends over, hosting her very first sleep-over.
"I am filled with such gratitude. I am constantly inspired by all the selflessness of Habitat volunteers. It's so amazing to be surrounded by people who just want to do something good for the families of our community, to do something good."
It's also inspiring to witness the growth of Sharon and her children – evidence that the Habitat mission is life-changing. All she needed was an opportunity, and a safe, decent and affordable place to celebrate and mark those things that truly matter.