A HomeBuilder Event
Nevada County Habitat for Humanity
Uphold and strengthen the spiritual core of the Habitat for Humanity mission locally.
Design of a HomeBuilder Event
A HomeBuilder Event is designed to raise awareness and participation in the ongoing efforts of Nevada County Habitat for Humanity. The HomeBuilder event is designed by the HomeBuilder Faith Community to be in harmony with its particular customs.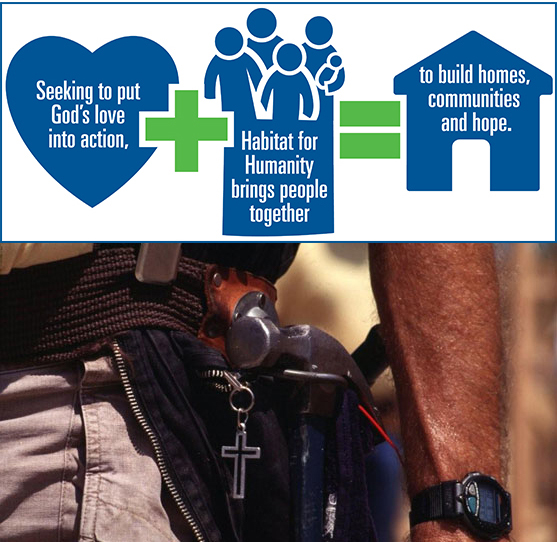 HomeBuilder Event Suggestions
A Habitat Guest Speaker
Invite a Habitat representative and/or family to speak briefly to the community, preferably during worship or similar occasion.
A Special Offering
Hold a special offering that will help to build Habitat for Humanity homes in Nevada County.
Active Volunteer Participation
Encourage the recruitment of volunteers and/or team to participate in some regular Habitat activity, such as: onsite build team; ReStore assistance; serving lunch to build team; participating in one of Habitat's committees, such as: Homeowner Selection, Homeowner Support, ReStore, or Fund Development.
A ReStore Event
Host a ReStore Event, where the Faith Community members can bring items for the ReStore, to be collected by the ReStore team, which may also include soft recruitment and solicitation of financial donations.
Honoring HomeBuilder Volunteers
Honor Homebuilder volunteers in some appropriate way.
Join our HomeBuilder Faith Community! Let's talk!