Nevada County Habitat Celebrates its Most Successful Annual Benefit Ever
Over 240 people came together on September 29, 2022, at the Grass Valley Veteran's Memorial Building in support of Street of Dreams, Nevada County Habitat for Humanity's (NCHFH) annual fundraising event, to raise awareness and funds for affordable housing in Nevada County. Through ticket sales, sponsorships, auction item sales, and the Build-A-Dream paddle raising, Street of Dreams 2022 is the most successful NCHFH benefit to date raising more than $100,000 to help build affordable housing in Nevada County.
NCHFH was elated to bring partners, donors, volunteers, and the community back together for an in-person event. This year 25 businesses committed to supporting affordable housing through sponsorships and over 100 individuals and local businesses donated items to the Street of Dreams auction. "This generous community never ceases to amaze me. The collective act of kindness that was expressed by everyone involved was tremendous. Construction costs continue to rise, but this level of support will help us build more despite that reality," says Lorraine Larson, Executive Director.
One hundred percent of funds raised will be applied to the construction costs for future Nevada County Habitat homeowners. Currently, NCHFH staff and volunteers are completing the construction of a single-family 4-bedroom home for Shawna, a local nonprofit employee, and mother of four. In 2023 NCHFH will begin building new homes for Angela, who works in transportation, and mother of three, and for Angel, a food service industry employee, and father of three.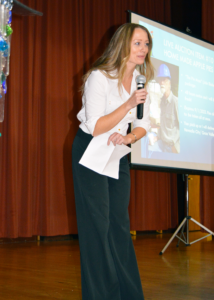 During the event, Shawna and Angela shared their personal stories to raise awareness about why affordable housing is needed in our community. Both women having applied multiple times to the Habitat program shared how the Habitat application process helped them improve their readiness to become a homeowner and strengthened their resolve to become Habitat partners. Although, at different points in their partnership with Habitat, Shawna, Angela, and Angel beamed with excitement and gratitude as attendees bid on live auction items or raised their paddles to donate money to build their "forever" homes.
Street of Dreams would not have been a success without the continued support of sponsors, donors, volunteers, and attendees. The smiling faces and energy in the room permanently changed the lives of three families in our community. "You're not only changing my life," Angela said, "but you're also improving the lives of my children and future generations, so thank you."