Paving the Road to the Future
We are raising funds to prepare the Heritage Oaks II building site. Before the foundations are laid, the site must be made build-ready. That means grading, water, sewer, power, and paving streets. Join us in transforming this site from bare land to 12 safe and affordable homes across the street from our completed 16-home Habitat neighborhood!
Heritage Oaks II Ground Breaking Ceremony.
Heritage Oaks II Dollars Needed
Hear about a family's life successes after becoming a homeowner.
There is a crisis
The median sold price of Nevada County homes has risen from $367,000 in January 2020 to $599,000 in April 2022. That's a 63% increase in just two years. Rents aren't any better. A small 3-bedroom house runs over $2,000/mo, while 2-bedroom apartments run $1,500-1,900/mo. The fact is demand outstrips supply when it comes to rentals for lower-income workers in Nevada County.
There's a solution
Habitat for Humanity is the only local builder of truly affordable homes to own in Nevada County. Working-class families are provided an opportunity to own a home with a mortgage payment ranging $650-$850 per month, depending on the size of the home, plus they invest 500 hours of sweat equity and pay a 1% down payment. For over 25 years we have been a proven solution for local work force housing.
Building a community
In 2022 we embark on building a new 12-home neighborhood, Heritage Oaks II, on Joyce Drive in Grass Valley (across the street from Heritage Oaks I). Nevada County Habitat will begin developing the land for Heritage Oaks II during the Fall 2022 and we need your help to give this new neighborhood life. Help add 12 new homes—and more importantly, 12 new families—to this neighborhood!
Costs breakdown
Before the foundations are laid, Nevada County Habitat needs, among other things, grading and site preparation, and installing water, sewer and power lines.
The total cost of infrastructure is $750,000. We've already raised $500,000.
We now need your help in raising $250,000, which will get us to building the first of this 12-home neighborhood!
We Have the Power to Impact Our Future, and We're Doing Something About It
Matched Donation
—Up to $50,000
Bill Croker, Nevada County Habitat for Humanity's (NCHFH) Board President, and his wife Carolyn believe that homeownership is a foundation for success to both families and the community at large. The couple's involvement and dedication to NCHFH has spurred collaborative fundraising events like bringing the Great Race to Grass Valley and team builds with local businesses that sponsor Habitat Playhouses. This time the couple is stepping up to do even more and have generously donated $50,000 as matching funds to the Heritage Oaks II Capital Campaign.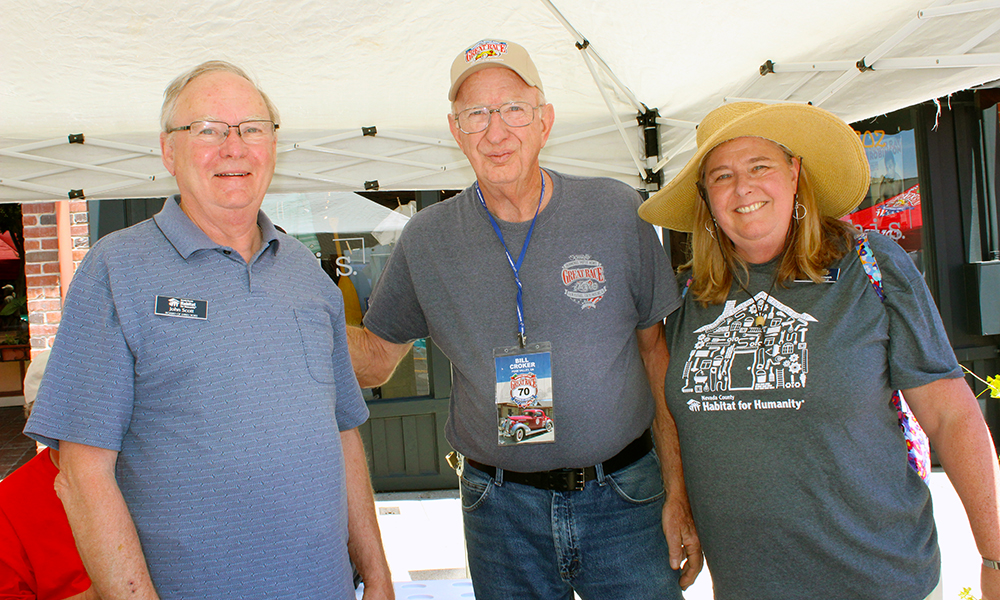 Bill Croker (center), with Board Member, John Scott, and Executive Director, Lorraine Larson
"It is important for donors to know that Nevada County Habitat's organizational overhead is paid by other means and that 100% of donations are used for development and building housing. We have one of the best run Habitat's for our size and are already making a tremendous impact on our community, and have not yet met our full potential. This is our chance to do more for the community and the organization. Carolyn and I are fortunate enough to give substantially to Habitat and we want to encourage others to do the same by multiplying their efforts dollar for dollar up to $50,000," – Bill Croker, NCHFH, Board President
Our Top Priorities
Your financial support helps build homes and hope for working families in Nevada County. Every penny goes directly toward a new family's home, and you can see where 100% of your donation goes every time you drive by a Habitat home.
Grading & Site Preparation
Make a cash donation online.
Mail your gift to:
Nevada County Habitat
PO Box 2997
Grass Valley, CA 95945